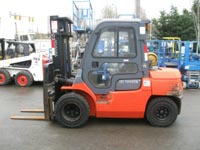 We BUY and SELL forklifts all over the United States, Canada, Mexico, South America, and have been in business since 1986.
We don't hide behind this web site, and encourage you to call or email us for personal service. We look forward to serving you!
PLEASE contact us for all of your forklift needs, whether you are BUYING or SELLING. We sell quality late model forklifts, and will buy any type of forklift, regardless of make, model, age, or condition.
ALSO, we are interested in buying any type of warehouse equipment including Rack, Shelving, Conveyer, or anything that isn't part of your building.
We can deliver or pickup forklifts anywhere on the planet.
LET US BE YOUR PERSONAL SHOPPER!
CALL (512) 401-3166
EMAIL: dcleaver@forkliftresidual.com
Looking forward to serving you!